AN IDLE QUESTION
IS THE ECONOMIC SYSTEM WE HAVE WORKING FOR US? OR MAYBE JUST GETTING US DEEPER AND DEEPER INTO DEBT? OR IS THAT A SILLY QUESTION?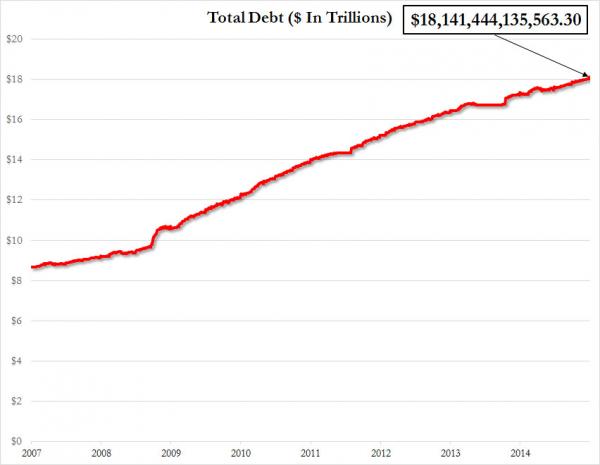 THIS IS THE NATIONAL DEBT FROM 2007 TO 2014
IT TOTALS $18 TRILLION—AND CHANGE
When Obama took office on Jan. 20, 2009, the debt was $10,626,877,048,913.08. Since then, it has increased $7,514,567,086,650.22--which is $65,443 per household, $70,985 per full-time worker and $84,266 per full-time private-sector worker.
He can scarcely be blamed for that increase. He inherited an economy is financial free-fall—The Great Recession. It took a great deal of money to avoid complete disaster. Unfortunately, most of went to the people who had caused the crisis in the first place.
The way matters are structured at present, if the major financial institutions get into trouble—as they do regularly—the government has to bail them out (or the economy collapses). It's a blackmail situation.
Could we do something about it? Dodd-Frank was an attempt but it has already been weakened—and the Republicans want to weaken it further. They side with the banks.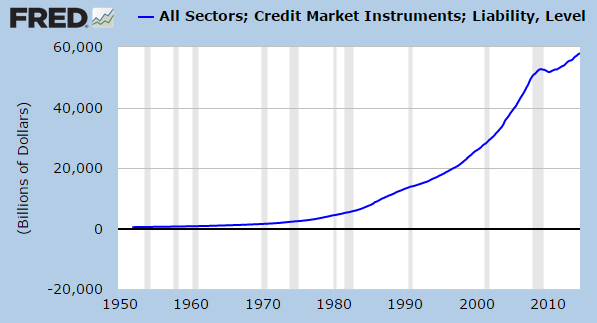 THIS IS TOTAL CREDIT MARKET DEBT
THE TOTAL IS $58 TRILLION
There are three things about debt that are worth bearing in mind.
You have to pay it back.

You have to pay interest.

The higher the debt, the higher the interest.
The more we turn into a debt based economy, the more we pay in interest, the less we have to spend on anything else—no matter how important or worthy. In effect, debt amounts to a sort of tax which we pay to those who lend us the money—the ultra rich (who get richer).
As far as most of us are concerned, we are on a very slippery slope.
The following is from a story by Les Leopold in Alternet.com dated December 31 2014. It is well worth reading the whole thing.
We are certainly beholden to Wall Street. By 2006, 40% of all US corporate profits went to Wall Street —up from 7% in 1980. And over $21 trillion is now hidden in offshore tax havens– and moves there via Wall Street. Furthermore, the top three banks dominate the entire financial system. These oligopolists have made it clear to all, they are far, far too big to fail, jail or curtail.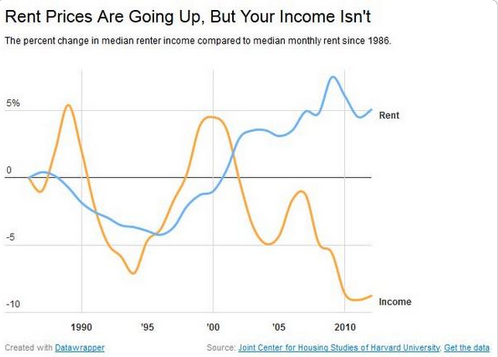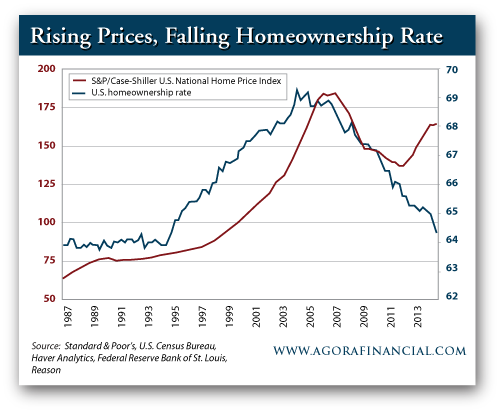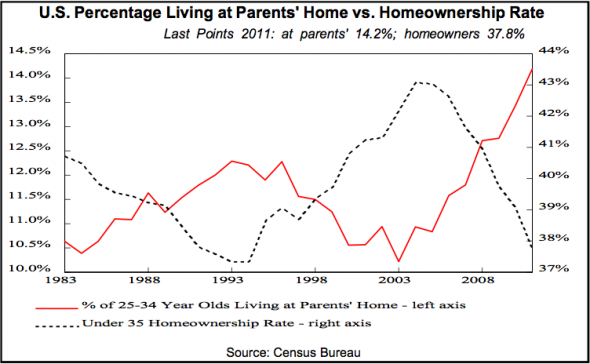 We clearly need a financial system, but right now, the tail is wagging the dog. Given that we have just endured a truly horrendous financial crisis, the 2008 Great Recession, which was caused by Financialization, one has to wonder why we are setting ourselves sup for a follow-on.
Why is this being allowed to happen? Because those who own our financial institutions also control the political process. The system is rigged. First, it was bought. Politicians come cheap in relation to the payback. In fact the return on investment from bribing a politician is spectacular.
That's why the movers and shakers do it.
One dollar, one vote. It's a truly sad state of affairs. All my research indicates that financialization at the U.S. level is a drag on the economy and inherently unstable.
We are heading towards another (entirely preventable) financial crisis.
When—sooner than you'd think.
VOR words c.430
---