THE TRILLION DOLLAR HEIST FROM YOU TO THEM
(Put that way, it sounds downright touching)
THE CURRENT AMERICAN BUSINESS MODEL AT WORK
THE TOP 1% HAVE GAINED $1 TRILLION (that's almost real money) AT THE EXPENSE OF THE BOTTOM 80%
MOST OF US DON'T SEEM TO HAVE NOTICED—IN FACT WE TEND TO VOTE FOR THE VERY POLITICIANS WHO HELP TO RIG THE SYSTEM
ONLY IN AMERICA…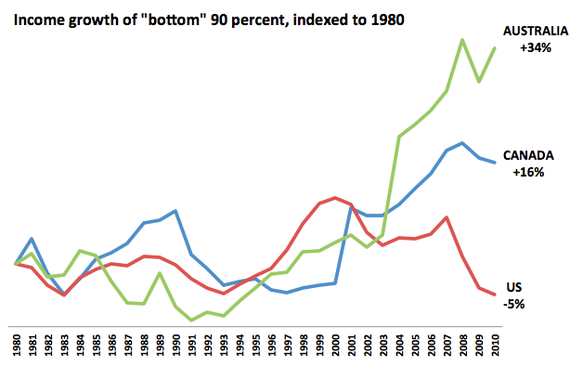 THE INCOMES OF THE BOTTOM 90% GO UP IN AUSTRAILIA AND CANADA—TO GIVE BUT TWO EXAMPLES—BUT DECLINE IN THE U.S.
WHY?
AND WHERE IS MUCH OF THE MONEY STASHED?
DECIDEDLY NOT ONLY IN AMERICA
BY WHO?
I'm not sure I can add much to this story. What is going on is so egregious it practically defies description—and yet there is no mass concern. Reportedly, half the adult population is on legal drugs. I have to wonder what the other half is on—in that few seem to notice or care.
This is the biggest heist in history—and it is happening in plain sight.
It makes the biggest thieves and villains in history seem like amateurs. Attila the Hun and Genghis Khan must be spinning in their graves. The Vikings, exhausted by all that raiding and rape, must be seething in Valhalla at the inadequacies of their own business mode).
If you are going to pillage a country, the American Business Model is clearly the way way to go.
This story is largely sourced from www.vox.com (a very useful site).
Larry Summers sums up the cost of rising inequality to the typical American household: "If the US had the same income distribution it had in 1979, the bottom 80 per cent of the population would have $1 trillion — or $11,000 per family — more. The top 1 per cent $1 trillion — or $750,000 — less."
VOR words c.100.
---