BAND OF BROTHERS—BAND OF FRIENDS
A REMARKABLE TV SERIES BASED AROUND AN EQUALLY REMARKABLE MAN
MAJOR DICK WINTERS (92) OF THE 101ST AIRBORNE DIVISION HAS DIED AFTER A LONG AND WELL LIVED LIFE. ONE CAN BUT SALUTE HIS MEMORY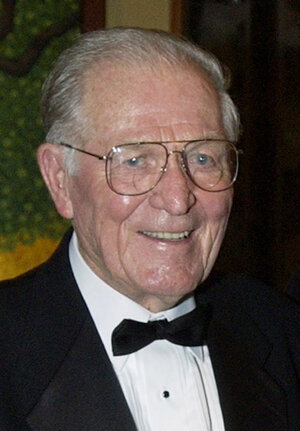 I often think we would be better off with less—of most things—but of a higher standard. The TV series BAND OF BROTHERS is as good an example of any I can think of to illustrate this point. It was a magnificent series and Winters was portrayed in it—very movingly—by English actor, Damian Lewis.
The performance of the U.S. Airborne in WW II was extraordinary. I spent considerable research time with both the 82nd Airborne and the 101st Airborne (Air Assault) in the Nineties and regard it as an honor.
As it happens, it also changed my life—and very much for the better. In my case it yielded a band of friends.
I feel privileged to know them.
VOR words 142
---