WEAPONS, WEAPONS, & MORE WEAPONS
LASER WEAPONS HAVE FINALLY ARRIVED. LOOK NO FURTHER THAN THE USS PONCE NOW ON STATION IN THE PERSIAN GULF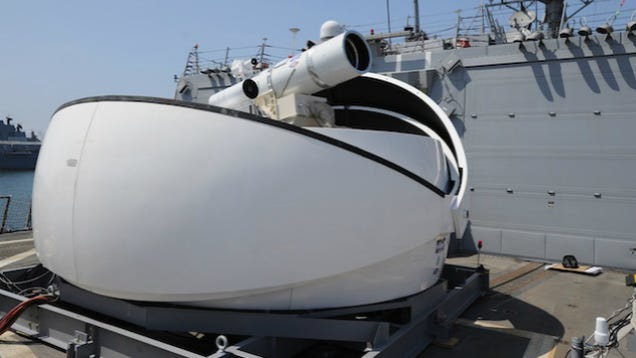 THE WEAPON CAN WARN, DAZZLE OR FRY—AT $1 A SHOT. WHO SAID THE AMERICAN BUSINESS MODEL DOESN'T OFFER BOTH CHOICE AND VALUE!
Let me quote from the Bloomberg story of November 14 2014. .
The U.S. Navy has deployed on a command ship in the Persian Gulf its first laser weapon capable of destroying a target.

The amphibious transport ship USS Ponce has been patrolling with a prototype 30-kilowatt-class Laser Weapon System since late August, according to officials. The laser is mounted facing the bow, and can be fired in several modes -- from a dazzling warning flash to a destructive beam -- and can set a drone or small boat on fire.
Naval Sea Systems Command technicians developed the prototype over seven years at a cost of about $40 million. The Ponce crew was authorized to deploy the weapon after it passed a series of at-sea tests, including lasing static surface targets, the 5th Fleet spokesman Commander Kevin Stephens said in an e-mail statement.

The prototype focuses the light from six solid-state commercial welding lasers on a single spot, according to a July 31 Congressional Research Service report. It "can effectively counter surface and airborne threats, to include small boats" and drones, Miller said, and firing it costs about a dollar a shot, according to the Navy.

New York-based L-3 Communications Holdings LLC (LLL) and Pennsylvania State University's Electro Optics Center have provided components and engineering support.

The lessons from the one-year Ponce deployment will feed Navy laser development by industry teams led by BAE Systems Plc (BAESY), Northrop Grumman Corp. (NOC) and Raytheon Co. (RTN), to field a more powerful weapon, possibly by 2021.

Those efforts are separate from military laser designators to guide precision munitions, non-lethal crowd control devices or discontinued instruments intended to blind enemy electro-optical sensors.
Words 328
---