Douglas had a high opinion of actors, movies, and moviemaking, stating: "To me it is the most important art form—it is an art, and it includes all the elements of the modern age." He also stressed the entertainment value of films, noting "You can make a statement, you can say something, but it must be entertaining."[19]
---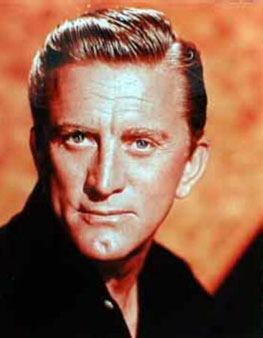 I'm not really celebrity driven—or a believer in that culture. I met too many celebs when I was young to regard them as anything other than people—and not necessarily good role models at that.
I have also been in a number of movies as an extra—where I noticed a great deal. The job is not quite akin to watching paint dry—but it is close. A great many people in that business are far from admirable—and I'm being polite.
Nonetheless, I have huge respect for some of the movie stars of my youth because—along with books—they let me escape from a difficult upbringing, and a number that I met were singularly impressive in their own right as people. For instance, you would be pressed hard to find two more genuinely charming people than Gregory Peck (met in France) or Alec Guinness (met in Ireland). As for Shirley McClaine (met at a neighbor's house)—and not a favorite movie star of mine—when met in person, in a little black dress and without makeup—she was delightful.
Have I ever met anyone with quite the same vitality as Kirk Douglas at his age? Yes, I have. He was the inventor—and my friend—Robert Fulton, whom I saw chatting up and charming two attractive women in his mid-nineties. It was at a party.
Would that I was kidding! I was damn nearly jealous. I lie. I was jealous. I was also lost in admiration. Bob was the real thing—and he had style.
I wish the Douglas family nothing but good—and I greatly miss Bob Fulton. He has left behind a great family.
This photo is pretty much how Bob Fulton looked when I knew him. He was over 90 but moved like a fit 70 year old. The man was intelligent, vigorous, humorous,and delightful. And he was so damn interesting.
I was also deeply attached to his wife, Anne—a truly beautiful woman with a tragic past. Great cook and great sense of humor. Stayed with me in Ireland.
We had some good times together. She died too young—for reasons I will write about some other time—to my great distress. What she had feared had happened. Her son, who had tried to emulate Bob's epic travels—had been killed just as she had feared.
I died a little inside when I heard. She had dreaded the outcome. Why the motorcycle? Let me throw Bob's life at you. It was remarkable. But he set the bar high—without really being aware of it.
Birth:
Apr. 15, 1909
Manhattan
New York County (Manhattan)
New York, USA

Death:
May 7, 2004
Newtown
Fairfield County
Connecticut, USA


Inventor, Adventurer, Author. He developed his taste for adventure as a child, after his family took him on early commercial flights to Florida and Cuba, and a 1923 trip to Egypt following the opening of King Tut's tomb. He attended Harvard in 1931 and received a master's degree in architecture from the University of Vienna. Then, in July of 1932, he headed east from London riding a twin-cylinder Douglas motorcycle on a 40,000 mile trip around the world, finishing up in New York in December of 1933. He wrote a book about the adventure, "One Man Caravan", which was published in 1937. In 1939 he invented the Gunairstructor, an aircraft gunnery simulator used by the U.S. Navy to aid in the training of World War II pilots. Fulton taught himself to fly and traveled around the world working with the military. He frequently had trouble finding ground transportation to and from airports, so he began work inventing the Airphibian (a flying car) in 1945, which made its first successful flight in 1947. The Airphibian could be converted from airplane to car in less than five minutes by removing the wings and propeller. In 1950 it became the first flying car to be certified by the Civil Aeronautics Administration. The Airphibian never succeeded commercially, but there is one on display at the Smithsonian Institute. During the 1950s he began work on the Skyhook aerial rescue system. It was used to quickly lift people from the ground and into a passing airplane. The person on the ground would put on a suit and release a 500-foot nylon line attached to a helium filled balloon. The rescue plane would catch the line with a special hook, quickly pulling the person aboard. The system was used extensively to rescue downed pilots. He had more than 70 patents before his death at the age of 95. (bio by:GravRidr)
---