A DISASTROUS BYPRODUCT OF U.S. HEALTCARE IS THAT EMPLOYER LABOR COSTS GO UP
BUT THE EMPLOYEE HAS LESS TAKE-HOME PAY ONCE INFLATION IS FACTORED IN
This (and a long list of other reasons) makes employees unhappy so they become disengaged from their work—and ever increasing numbers leave the workforce. It's just plain not worth it.
Because such employee purchasing power helps to make up demand—and people who have left the workforce, generally speaking, earn less—overall, consumer demand suffers.
Productivity suffers because discouraged workers don't care, and therefore don't try very hard—even if they don't actually gives up their jobs.
As for growth—the figure politicians love to tout—it is increasingly meaningless to most Americans, because they are finally (if slowly) beginning to realize that the benefits accrue only to the rich.
It is my contention, by the way, that the U.S. has the worst labor relations of any developed nation—and that situation plays no small role in the current rather miserable productivity situation. It is not the only factor—under-investment by business in everything from R&D, to training, to plant and equipment plays no small role—but the mindset of the workforce is no small issue.
The following is from an Atlantic article by David Frum on why Jeb Bush is so wrong about American workers. The points which hit me hardest were:
That Florida did grow at 4 percent a year under Jeb Bush—but only on the back of a property bubble, which burst—and the Florida economy collapsed.
The combination of the corrupt American Business Model and U.S. healthcare is destroying the U.S. economy.
The disillusionment of underpaid American workers is very real—and they are voting with their feet—thus depressing demand.
Those who work less, earn less: In 2011, only 18.5 percent of the poorest quintile of households contained a full-time worker, as compared to 60.5 percent in the middle quintile, and 78.2 percent in the top quintile.
Are people up in arms over these developments and trends—because the longer-term outcome will be horrendous? No. Most Americans seem to be either unaware, or indifferent.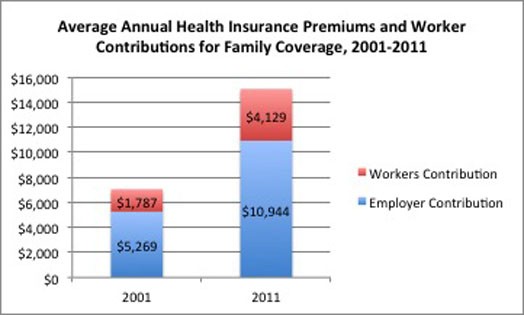 ---