IT IS NOT YOUR IMAGINATION. MOST AMERICANS ARE BECOMING POORER
HERE ARE SOME FIGURES JUST TO RUB SOME SALT INTO THE WOUND. IT WILL HURT—BUT MAY JUST GET YOUR ATTENTION.
I SHOULD KNOW BETTER, BUT SOMETIMES I'M AN OPTIMIST
This is explained in much more detail by www.MyBudget360.com However, several points are absolutely clear.
The official inflation figures have been modified in such a way that the true costs of inflation are being suppressed. The published figures are not exactly fraudulent. They are mainly grossly misleading. Intentionally so? I could not possibly comment (yes).

The purchasing power of most Americans is declining.

There are some consolations in that you now get a more powerful computer for less money (for instance)—and a nicer flat-screen TV—but these don't remotely compensate for the swingeing (not a misprint—it is a word meaning: severe or extreme in size, amount, or effect—as in "swingeing cuts in public expenditure")increases in major costs like Healthcare, Education, Cars, and Automobiles. But, they keep you entertained, distracted, biddable, and docile—even if you are in debt up to your eyeballs, and pretty much owned by the financial sector!
And the good news? You will almost certainly be (legally) drugged as well.
Such is the American Way of Life these days.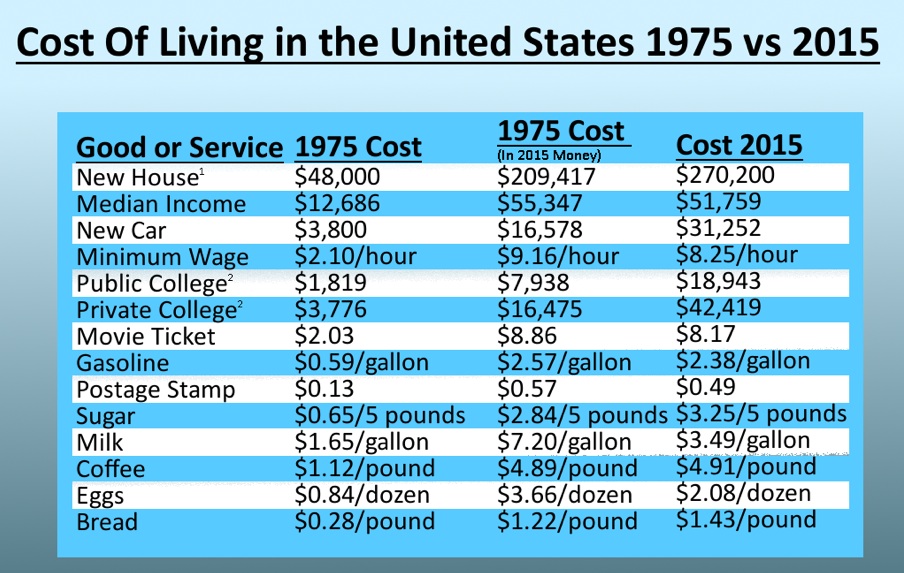 The following is from mybudget360.com an excellent site that lays out many of the basic economic realities that many of us—particularly Congress-- choose to ignore.
This is a very telling chart. First, let us look at the biggest line item with housing. A new home today costs $270,200. That 1975 home adjusting for inflation would cost $209,417. This is a "real" increase of 29 percent. A new car costs $31,252 while that 1975 car adjusting for inflation would cost $16,578. This is a true doubling of cost here. Public college costs are up over 150% while private college costs are up over 160%. And you wonder why we have over $1.3 trillion in student debt outstanding.

What is more affordable relative to inflation? Milk, eggs, and a postage stamp. Unfortunately these are tiny line items on your household budget.

What you need to look at is the median income here. US households overall are simply poorer. They have less to spend relative to the cost of goods and services. Money is only as good as what it can purchase. You can't eat hundred dollar bills. This is part of the reason why many people feel like they are poorer. It is also a big reason as to why the homeownership rate continues to fall.

The Fed uses the Consumer Price Index (CPI) to gauge if inflation is within range. Take a look: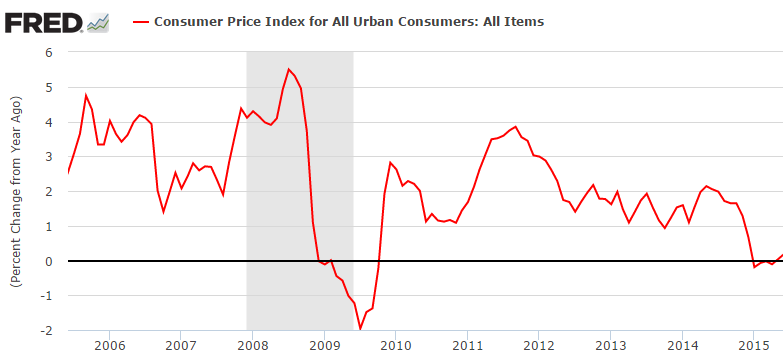 According to recent data, we have nearly no inflation! How about that. Well look at the above chart. We have some major inflation going on but recent policy is dictated by recent changes in inflation. And you are also missing out on bigger changes like many young Americans having most of their debt and spending being consumed by college. The CPI gives only a tiny portion allocation to college education. Keep in mind the CPI is a weighted basket. So this misses out on a large cost for millions of Americans.
The government cites various technical reasons for changes they make regularly in how they are measuring inflation. Some of these changes are credible. Others are a stretch—though are not actually lies (they merely fail to communicate the truth).
Nonetheless, no matter how you dance around, the bottom line is that real inflation—as far as most real Americans are concerned—is significantly higher than the figures the government announce. The Cost & Price Index is not accurate. That is extremely disturbing because so many things are based on it.
The U.S. Economic system—and, by extension, the American Business Model, is based upon bad data in certain key areas.
Bad data leads to bad decisions—and undermines democracy.