ON THE FACE OF IT
OUR ECONOMIC PROSPECTS LOOK EXCELLENT—BUT THERE IS SOME DUBIOUS BEHAVIOR OUT THERE, AND SOME FUNNY NUMBERS AROUND. SOME AREN'T SO FUNNY. SOME CONSTITUTE AN AMERICAN TRAGEDY.
FOR POVERTY AND ITS CONSEQUENCES TO BE AS RIFE AS THEY ARE IN THE RICHEST COUNTRY IN THE WORLD IS—FOR WANT OF A BETTER WORD—WRONG.
I BELIEVE STRONGLY THAT WE REALLY ARE, AS A PEOPLE, BETTER THAN THIS.
MAYBE THESE THINGS DON'T MATTER—MANY SEEM TO THINK NOT. BUT MAYBE THEY DO.
It is very hard to go against optimism—and I don't particularly want to. I think its great that people are heading into the New Year feeling decidedly more optimistic about the economy (whether they are right or otherwise).
However the idea of idea of being a writer—as I understand it—is to call it like you see it (within reason). 'Illuminating the human condition' doesn't guarantee that what can now be seen more clearly is a pleasant sight. But there is so much to see that is beautiful, fascinating, or both—that your odds are quite good.
But maybe the guts of the economy and social issues aren't the best things to illuminate if you want to focus solely on the beautiful..
Some thoughts.
We seem to have learned virtually nothing from the 2008 Great Recession—the severest recession since 1929. In fact, the banks are already clawing back the ground that was gained by Dodd-Frank (limited though it was). And they are doing so blatantly. They don't seem remotely concerned with public opinion.

Financialization continues to increase its hold on the U.S. economy despite considerable evidence that—at a certain point—it becomes destructive. We are long past that point.

A high growth rate and a booming economy should not be confused with gains in prosperity for most Americans. Why not? Because key costs are going up (housing, healthcare, education etc.) which more than cancel out any gains.

Lower gas prices are a wonderful thing, but not if they lead to more driving, and reducing our efforts to develop a more sustainable economy. There is worrying evidence that this is already happening.

A disturbing number of people are not in the labor force—and that number is rising fast. It cannot be accounted for by demographics alone. It seems that large numbers of people have rejected conventional work for various reasons. My theory is more and more people are disillusioned with U.S. working conditions. Through there are some commendable corporations out there, all too many seem to have no feelings—other than negative—for their workers at all. Add low pay, few prospects, anti-unionism, minimal vacation time, no sickness pay, ever increasing healthcare costs, no security, and authoritarian management and sooner or later people wonder: "Is the game worth the candle?" As far as many are concerned, it isn't. This isn't the kind of issue that grabs the headlines. It's a structural problem—one of many.
Here, I touch on just a few. I would have preferred to have listed more purely economic issues—as opposed to social—but I don't have the graphics to hand. That said, the two are interdependent.
Blame TMBD (Too Much Bloody Data). I shall try and improve.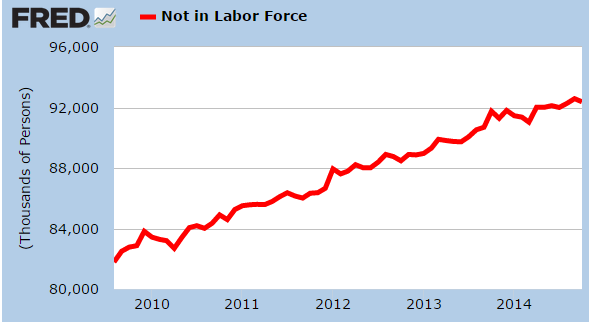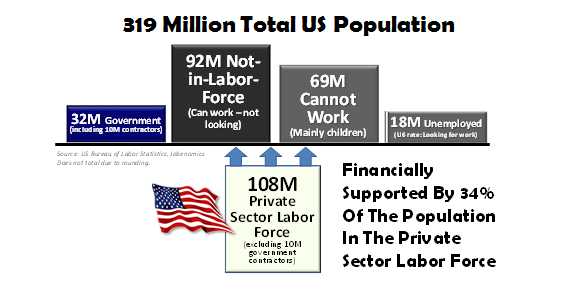 The current trend is for the American Business Model to continue as usual—only more so. I happen to think it needs fundamental structural reform.
There are few signs of that happening—and it doesn't seem to be a widely shared view.
Back in 2004 I thought there would be a recession in 2008—and that wasn't a widely held view either.
But, I have no crystal ball. I'm more in the position of someone inspecting a building suffering from severe structural problems. Such structures can endure for many years—or collapse tomorrow. But, if you don't repair them, sooner or later collapse is inevitable.
Countries don't literally collapse. They just become decidedly more stressful to live in. That can happen with surprising speed. Consider how fast the Soviet Union disintegrated, our Great Recession took effect, or the speed of the recent drop in oil prices.
I'll feel a great deal easier when I see repair work underway. This is a genuinely Great Nation, most of my friends—who I care about greatly—live here, and it deserves more maintenance that it is getting.
I am not without faith.
Happy New Year.
VOR words 573.
---