WHAT WE SPEND OUR MONEY ON—AND HOW WE HAVE MORE INFLATION THAN IS GENERALLY ADMITTED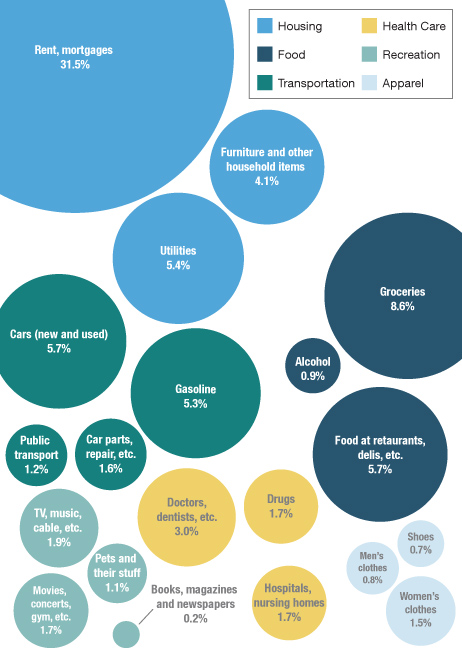 I hadn't intended to write about the economy today, but I found the above graphic too appealing to resist. I got it from a newsletter called mybudget360 which I have been subscribing to for some years.
It tends to be somewhat blunt about the realities of our economic condition. That is another way of saying that it doesn't gloss over the more painful realities in the manner of our major media.
Let me include some brief examples of its style.
Once again, home prices are rising at an intense pace unjustified by underlying economics. More to the point, it appears that over the last few years large financial institutions are leveraging the easy money provided by the Fed to invest in real estate crowding out regular families. In 2013 the largest buyer of real estate in the US is the investor class (the first time in history this has happened). Home prices are moving up by double-digits yet incomes look like this:

Household income still shows dramatic signs of weakness so how is it that home prices are up by double-digits? Again, the largest buyers are not typical families but investors that have access to the easy debt provided by the Fed.

Going back to the chart above, Americans also spend a good amount of money on food, energy, and utilities. These are impacted by fuel so let us look at how gas is doing:

The price of gas has quadrupled since 2000 yet incomes are stagnant. So more money is being allocated to the necessities of life and less disposable income is left. If we look at the MIT BPP inflation figure we see that yes, prices continue to go up.
The consequences of declining incomes plus price inflation—which the government does not measure accurately—cannot bode well for most Americans. And yet, there is no groundswell of rage—as there would be in many other countries.
Ignorance or inertia? Both, I suspect. Not a good situation.
QUOTE:
"Success is not to be measured by the position someone has reached in life, but the obstacles he has overcome while trying to succeed.
"
― Booker T. Washington