THERE IS FAIR, UNFAIR—AND ABSOLUTELY RIDICULOUS
AND THEN THERE IS AMERICAN CAPITALISM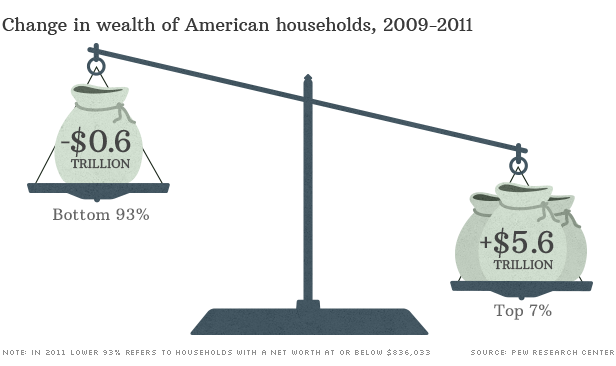 What this graphic shows is the fact that during the period of the recovery (debatable in itself) in question—2009-2011—the worth of Americans increased by $5 trillion.
That would seem reasonable—even encouraging—unless you examine the data. It shows that the bottom 93 percent of the population (which means most of us) actually lost $0.6 trillion.
Meanwhile, the top 7 percent of the population gained $5.56 trillion.
The economic structure of the U.S. is stacked against the mass of the population in a myriad of ways—most of which started in the early Seventies. Most of us are getting poorer. Many are getting much poorer. 47 million plus are now on food stamps. Poverty is rife.
The Big Banks are thriving. Corporate profits are at record levels. Labor's share of GDP—the National Cake—is steadily being forced down.
Quite why there is no popular outcry about all this is matter of some wonder. It is not a sustainable situation.
And now I'll get back to my screenplay.