RIDDLE ME THIS! WHY AREN'T MORE AMERICANS CONCERNED ABOUT THE FACT THAT THE AMERICAN BUSINESS MODEL ISN'T DELIVERING FOR THEM?
A. Because the Stock Market is going up?
A. Because the mainstream media are not covering the issues?
A. Because they haven't a clue what to do?
A. Because—though it defies credulity—they just haven't noticed?
There is a great deal of good economic news out there at present—from the sheer scale of current job creation to the seemingly ever rising Stock Market—yet, apart from the fact that the primary beneficiaries continue to be the ultra-rich (and those who serve them) I take the view that the structural flaws in the economy so outweigh such positive developments that the trend lines still indicate economic and political decline.
Most serious of all is the fact that the fundamental flaws in the economy are neither being discussed nor addressed except in a token way.
The American tragedy continues in plain sight.
Consider, for instance, the plight of the young. Since the young are our future, you would think we all might be more concerned. We don't seem to be. We are facing clear and present economic danger, yet we don't seem to be reacting.
Fatalism? A sense of helplessness? Ignorance of the implications of economic developments?
Something is seriously adrift. The following is just one example of a whole series of disturbing manifestations of a structurally flawed economy that is not serving most of us well.
Young People's Wages Have Fallen Across Industries Between 2007 and 2013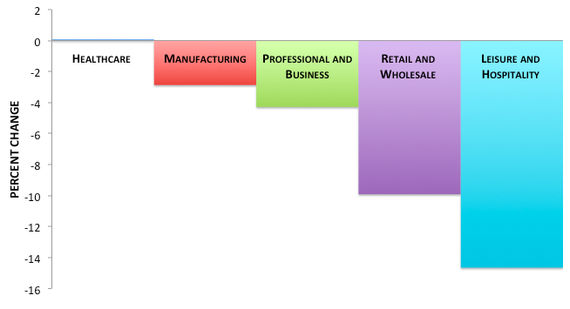 The Wages of the Youngest Workers (Ages 18-24) Have Fallen, Too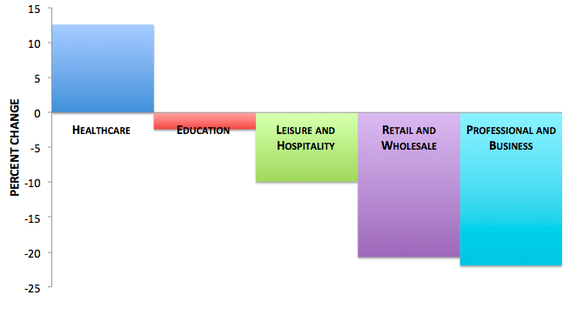 Savings Rates Since 2004, by Age